2017 PROGRAMME OF STUDIES
The Seminar of Jacques Lacan XVI: From an Other to the other 1968 – 1969
We are undertaking a close reading of Cormac Gallagher's unofficial translation of Lacan's Seminar XVI alongside the Spanish translation.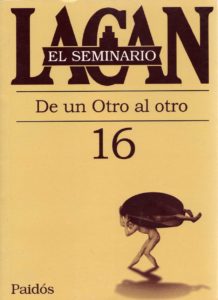 On Humanisation? Colette Soler – Cour 2013 – 2014
The project to translate this seminar into English has been underway in the forum since 2015, thanks to the collaboration with our colleagues abroad.
From 2016, we will be working on these translations, which addresses the topic of humanisation or the symbolic integration of man into language and with it the resultant "denaturing" of the human animal: the fragmentation of the drives, repetition and symptoms, as the hallmarks of effects on the body by the unconscious as deciphered by Freud.
The topic is sufficiently broad for us to explore a range of issues, such as the father function, jouissance, the real unconscious, as well as, the pertinence of Lacan's work to a critique of capitalism and the commodification of desire.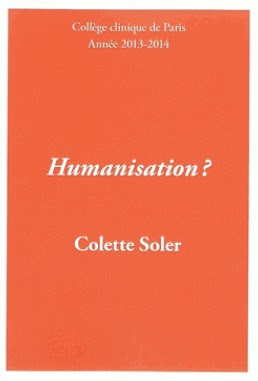 On Lacan's Proposition of October 1967
We will schedule one session each month to study the Proposition.
"The October proposal undoubtedly constituted one of the most innovative acts, with regard to training, in the history of psycho analysis. What was at stake was the uncoupling of the training analysis from the models of instruction which had obscured the passage specific to analytic therapy. Lacan thus wanted to reintroduce what was taught or transmitted by the couch as the sole principle of access to a function which until then tended no longer to have anything in common with the specificity of psychoanalysis . . it was a matter, at bottom, of institution-alising a 'third site' for psycho analysis, partaking neither of exams in the academic sense nor of any doctorate or diploma, but rather of a specifically Freudian politics of training." (Elisabeth Roudinesco, quoted in Rose 2000).
Given that the Lacanian orientation was born out of a challenge to the formidable institution of Psychoanalysis, as represented by the IPA in 1963, it is perhaps not surprising that questions about the school, the institution and the place of analytic training within it, should be central to the concerns of our forum.
The proposition, as a document voted on by the members of the École freudienne de Paris in 1969, is both a unique and a controversial contribution to the problematics of the transmission of psychoanalysis as a practice. It proposes what is described as "the two cornerstones of Lacan's revolution in training", one logically following from the other, namely, the Pass, as a procedure proposed by Lacan to formalize the passage of the analysand to the place of an analyst, and the principle that "the psychoanalyst derives his authorisation only from himself" (Lacan 1967).
Reference:
Lacan 1967, Proposition of October 1967
Rose 2000 (ed), in Lacan and the Question of Psychoanalytic Training by Moustapha Safouan